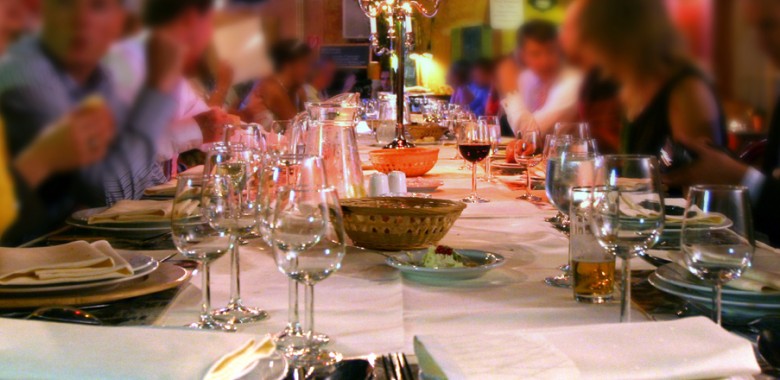 This weekend we did something a little bit different than we usually do! Since we all know our local school's problem considering the old, abandoned and overgrown school's grove – we decided to help.
Our students, very angry because school and local government couldn't find any solution to their problem, decided to gather and to think of the solution to the problem. What they wish is to clean the place up from all the garbage, trim the high grass and overgrown bushes. After those things are done, they want to build a street workout park there. But, in order to do that, they need money. We helped out a bit, along with the local NGOs , school employees , students and their parents. We organized a fundraising event and invited everyone in the community who is willing to help.
Our invitees had a very fun evening with delicious food and beautiful music. The school representatives talked about the problem and what they need the money for. After letting the guests know about the issue, everything started going the right way. We managed to collect a lot of donations from the guest who attended the fundraiser party. (Be sure we will make a report on the web page as soon as we take everything in consideration and our accounting puts it on paper!) The students, as well as their teachers and parents, were thrilled to see how successful the party was!
Apart from organizing the dinner, Refectory decided to donate all of the money paid by our guest during that evening for a mentioned cause. We are sure the money is now in the right hands and will be spent wisely.
Not only the fundraiser was hugely successful! The best thing of all are all those wonderful young people, the students. They are already thinking globally and want nothing but the best for their community and the generations yet to come. We are so proud to have you with us and be at your hand at any times.
We're glad to participate and to help in any kind of charity events. So, if you are in a need of a place to hold your charity event, don't hesitate on contacting us. We will do what is in our power to help out and achieve a goal we all have – a goal of creating a better tomorrow!
More photos of the event coming soon. Don't forget to pay us a visit later!